Agave Margarita
Description
NOSE: AGAVE IS THE IDEAL ALTERNATIVE TO SWEETEN YOUR CREATIONS. TRIPLE SEC HAS ALL THE INTENSITY OF THE FAMOUS ORANGE LIQUEUR WITH A LIGHT, LEMONY TASTE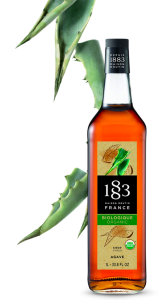 Sweet as honey, Agave BIO 1883 syrup is the ultimate sugar alternative. Made from carefully selected organic ingredients, Organic Agave 1883 syrup contains 100% agave syrup blended with the minerality of pure Alpine water. With its sweet, subtle fragrance orange peel, Triple Sec 1883 syrup captures all the intensity of the famous orange liqueur with a light citrus taste. Triple Sec 1883 syrup is alcohol-free and made from carefully selected ingredients, including natural cane sugar and our secret ingredient, pure Alpine water.
Recipe
15ml 1883 Triple Sec
15ml 1883 Agave
60ml  Tequila
15ml Lime Juice
Ice
Dip the rim of a glass with lime and salt. Blend ingredients in a blender with ice.  Optional – Pour ingredients in a shaker with ice and shake well. Serve and garnish.
See Bar and Hospitality Equipment section for our selection of Cafe, Club, Hotel, Restaurant and Hospitality Accessories.