Amaretto Cookie Cappuccino
Description
NOSE: Rich in smell, taste and intensely aromatic. Amaretto 1883 syrup has a caramel brown colour, inspired by its reference, Amaretto liqueur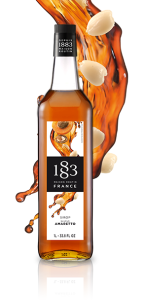 Rich in taste and intensely aromatic, Amaretto 1883 syrup has a caramel brown colour, inspired by its reference, Amaretto liqueur. Amaretto 1883 syrup is alcohol-free and made from carefully selected ingredients, including natural cane sugar and our secret ingredient, pure Alpine water.
Recipe
20ml 1883 Amaretto syrup
30ml Espresso
90ml Milk
Pour the espresso into a large mug.
Pour the fresh whole milk and the syrup into a milk jug.
Steam milk until foam is obtained, then pour into the cup.
Decorate with grated cocoa and dark chocolate cookie pieces.
See Bar and Hospitality Equipment section for our selection of Cafe, Club, Hotel, Restaurant and Hospitality Accessories.