Anise Tonic
Description
NOSE: A POWERFUL AND SWEET TASTE, WITH A SLIGHT SPICINESS REMINISCENT OF LIQUORICE ROOT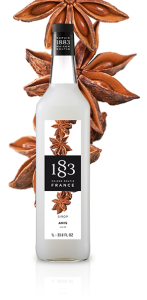 Subtly sweet, slightly spicy, Anise 1883 syrup excels in its intensity. With a milky white colour, it offers a taste reminiscent of licorice root and its aromatic profile recalls that of anisette liqueur. Anise 1883 syrup is alcohol-free and made from carefully selected ingredients, including natural cane sugar and our secret ingredient, pure Alpine water.
Recipe
30ml 1883 Anise syrup
30ml fresh lime juice
40ml ginger beer
30ml Vodka
Lime
Salt
Build all ingredients in glass filled with ice cubes. Stir. Top with crushed ice. Garnish with a lime wedge.
See Bar and Hospitality Equipment section for our selection of Cafe, Club, Hotel, Restaurant and Hospitality Accessories.