Blackcurrant Berry Granita
Description
NOSE: BLACKCURRANT HAS AN INTENSE SCENT OF BLACKCURRANTS WITH NOTES OF CARNATION AND ROSE. AUTHENTIC AND SLIGHTLY TART FLAVOUR REMINISCENT OF RIPE CRANBERRIES.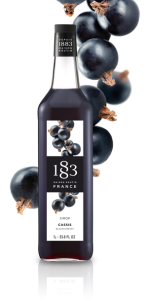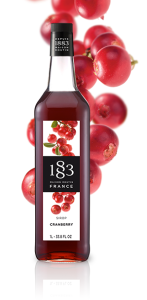 The intense berry scent associated with notes of carnation and rose, Blackcurrant 1883 syrup has a balanced flavour that is sweet and complex. Slightly earthy and acidic notes, subtly enhanced by aromas of black grapes, currants and passion fruit. With its dark red colour characteristic of the berry, Cranberry 1883 syrup develops an authentic and slightly tart flavour reminiscent of the intensity and roundness of ripe cranberries. Cranberry 1883 syrup is made from carefully selected ingredients including natural cane sugar and our secret ingredient, pure Alpine water.
Recipe
30ml 1883 Blackcurrant
30ml 1883 Cranberry
90ml water
Optional – add 40ml Vodka or preferred spirit.
Blend with large scoop ice in blender.
Pour in Martini glass and garnish.
*See Bar and Hospitality Equipment section for our selection of Cafe, Club, Hotel, Restaurant and Hospitality Accessories*