Blood Orange Peach Granita
Description
NOSE: A SWEET CITRUS FLAVOUR ENVELOPED BY FRUITY, TANGY NOTES OF RASPBERRY AND WHITE GRAPEFRUIT. THE AUTHENTIC TASTE OF RIPE YELLOW PEACH AND A PERFECT BALANCE BETWEEN SWEETNESS AND ACIDITY.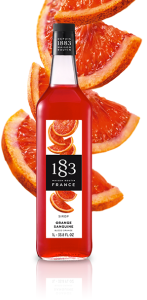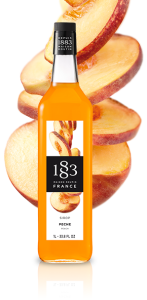 With a scent of summer fruit distilling fine notes of candied peaches, Peach 1883 syrup captures the authentic taste of ripe yellow peach and develops a perfect balance between sweetness and acidity.  Its aroma evokes all the intensity of the sweet orange peel blended with notes of fresh raspberries. Blood Orange 1883 syrup has a sweet citrus flavour enveloped by fruity, tangy notes of raspberry and white grapefruit. Blood Orange and Peach 1883 syrup is made from carefully selected ingredients including natural cane sugar and our secret ingredient, pure Alpine water.
Recipe
30ml 1883 Blood Orange
30ml 1883 Peach
90ml water
Optional – add 40ml Vodka
Blend with large scoop ice in blender.
Pour in Martini glass and garnish.
*See Bar and Hospitality Equipment section for our selection of Cafe, Club, Hotel, Restaurant and Hospitality Accessories*