Blueberry Mojito
Description
NOSE: THE AUTHENTIC, TANGY FLAVOUR OF BLUEBERRY ENHANCED WITH HERBACEOUS NOTES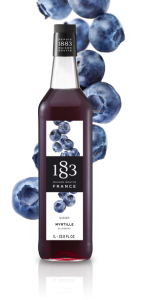 Recalling all the authentic flavour of fresh berries, Blueberry 1883 syrup has the sweet and tangy taste blueberries with some subtle, herbaceous notes. Blueberry 1883 syrup is made from carefully selected ingredients including natural cane sugar and our secret ingredient, pure Alpine water.
This drink can also work well with 1883 Strawberry, Mango, Cherry, Peach or Blackcurrant syrups. When using a transparent cup, do not stir. The visual of this drink adds value and cravings for the guests.
Recipe
30 ml 1883 Blueberry syrup
20-30 ml Rum
60 ml Sparkling water
Cup of ice
5-7 Mint leaves
1 Lemon
1 Lime
Optional – 1 Teaspoon Caster sugar
Pour the sugar into a glass, add the lemon and mint leaves.
Gently crush the lemon and mint with a muddler.
Pour in the syrup, crushed ice and rum.
Add the sparkling water.
Garnish with mint and lime leaves.
(Other fresh fruits can be used to decorate the drink)
*See Bar and Hospitality Equipment section for our selection of Cafe, Club, Hotel, Restaurant and Hospitality Accessories*