Brownie Choc Macchiato
Description
NOSE: THE INTENSE TASTE OF A CHOCOLATE BROWNIE FRESH FROM THE OVEN WITH A HINTS OF NUTS.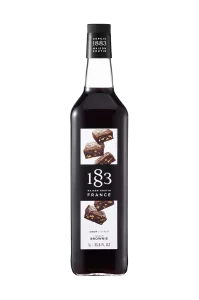 Dark brown in colour, Brownie 1883 syrup offers the unmistakable, fresh-from-the-oven flavour of chocolate brownies paired with subtle hints of nuts. Brownie 1883 syrup is made from carefully selected ingredients including natural cane sugar and our secret ingredient, pure Alpine water.
Recipe
20ml 1883 Brownie syrup
30ml Espresso
120ml Milk
Whip up and heat the milk with a steam nozzle.
Pour the syrup into glass.
Pour in the hot milk, then pour in the coffee with a spoon.
Finish by coating with the milk foam.
Optional – Decorate with brownie crumbs and slivered almonds.
*See Bar and Hospitality Equipment section for our selection of Cafe, Club, Hotel, Restaurant and Hospitality Accessories*