Bubblegum Delish Daiquiri
Description
NOSE: A NOSTALGIC COMBINATION WITH NOTES OF STRAWBERRY, BANANA AND CHERRY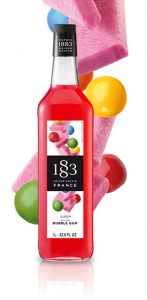 Highly recommended! One of our most popular in the 1883 range! Adorned in a pink that recalls the sweet delights of our childhood, Bubble Gum 1883 syrup expresses all the intensity of bubble gum with added notes of strawberry, banana and cherry. Bubble Gum 1883 syrup is made from carefully selected ingredients including natural cane sugar and our secret ingredient, pure Alpine water.
Recipe
20ml 1883 Bubblegum syrup
15ml 1883 Lime syrup
60ml White Rum
Pour all the ingredients into the shaker.
Fill with ice and shake vigorously for 10 seconds, then strain into a chilled Martini glass.
Decorate with a lime peel and a bubble gum ball.
*See Bar and Hospitality Equipment section for our selection of Bar, Club, Café and Cocktail Accessories*