Caramel Alexander
Description
NOSE: INTENSE NOTES OF BUTTER, VANILLA AND CARAMELISED SUGAR FOR A FULL-BODIED, BALANCED TASTE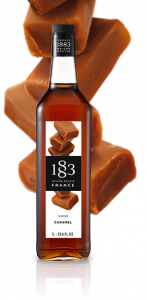 The perfect balance between flavor and sweetness, Caramel 1883 syrup develops intense notes of butter, vanilla and caramelized sugar for a full-bodied, balanced finish. Caramel 1883 syrup is made from carefully selected ingredients including natural cane sugar and our secret ingredient, pure Alpine water.
15ml 1883 Caramel syrup
30ml Cream
40ml Gin
Pour all the ingredients into the shaker.
Fill with ice and shake vigorously for 10 seconds.
Filter with strainer into a frozen Martini glass.
Decorate with chocolate shavings.
*See Bar and Hospitality Equipment section for our selection of Bar, Club, Café and Cocktail Accessories*